Living Beyond Burn Out:
a 30-day Integration
Join the global movement to activate the genesis of a new generation!

It's time we cultivate a new way of life not just for ourselves but for our kids.

"Growing up, I never knew a relaxed woman. Successful women? Yes. Productive women? Plenty. Anxious and afraid and apologetic women? Heaps of them. But relaxed women? At-ease women? Women who don't dissect their days into half hour slots of productivity? Women who prioritize rest and pleasure and play? Women who aren't afraid to take up space in the world? Women who give themselves unconditional permission to relax? Without guilt? Without apology? Without feeling like they need to earn it? I'm not sure I've ever met a woman like that. But I would like to become one."


― Nicola Jane Hobbs
Sound familiar?
You monitor your "to-dos", hustle harder, check your list and quantify your results. You say yes where you can and then you go, go, go and do, do, do, until you crash.

Once you crash, you "set boundaries", google "how to say no", and if you're lucky spend some time in a bath decompressing and tending to yourself. You check out of life for a bit, justifying your break, knowing that at some point you'll get back to it.

Your friends understand because they've been there and they feel exhausted too. We all want a break, but while you enjoy the down time, and hope your relationships haven't suffered, you secretly wish you could live here, checked out from the responsibilities... But you're an adult and you can't.

Eventually when you get back to it you notice a slight bit of FOMO from the things you missed out on. Although it doesn't make sense to do life this way, it's basically all we know...

IT IS THE HUMAN CONDITION.

For a moment consider what it would be like to live your life from a different foundation. One that is balanced. One that nurtures you. One that feels rested, fulfilled, present, and complete. One where you can honestly say that you are living BEYOND THE BURN OUT.
Hi, I'm Tamara Leah Rose founder of The Beyond Human Method, and here's your chance to get out of the #BurnOutCycle for good!

We've been taught that full schedules are a way of life, we should say yes when we can, and we'll "rest when we die," but living this way comes at a cost.

I've been an entrepreneur for 13 years, and a single mom for the last 3. It's because of the work I've done and my methodology that I've been able to live beyond the labels of "busy," "overwhelmed," and "stressed." Those closest to me notice that I'm at ease juggling "it all," and that I've cultivated a foundation of grace while prioritizing ME.

LIFE works itself around ME!

The truth is, there's nothing special about me, it's just the methodology you'll learn and put into practice during this 30-day course.

All you need is a willingness to make a change, I'll show you the rest!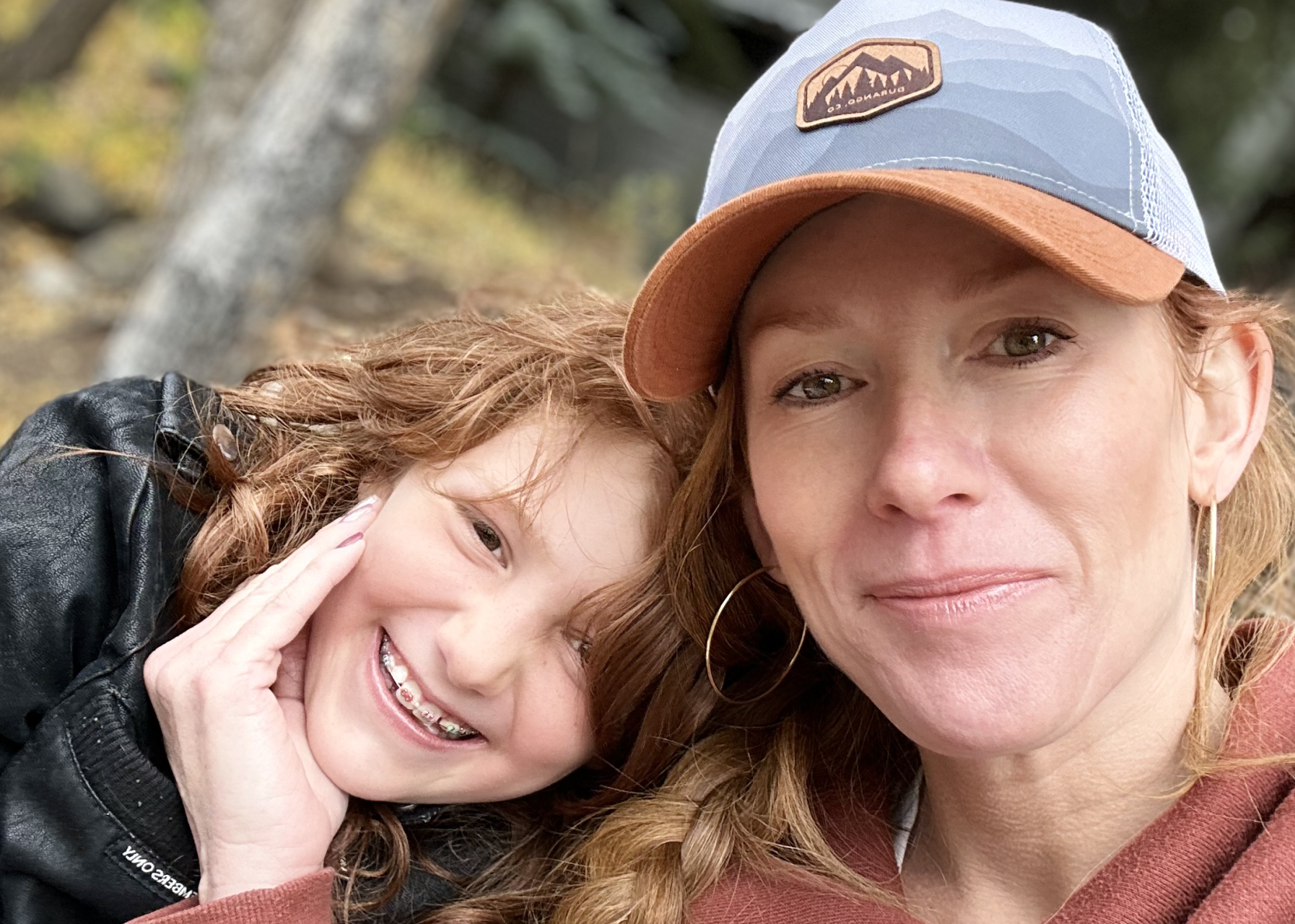 #BreakTheCycle
There's an increase in ADHD and ADD since 2007. These statistics aren't just tracking our children, adult cases have more than doubled in just a few short years since the study started.

We're more anxious than ever and less present with the ones we love. Our phones and tablets give us instant access to mindless scrolling, and while we'd love to meditate more and be more connected to those we love the most, we don't know where to start or how to #breakthecycle.

When making change looks like a bunch of "todo's" being added to an already full and over extended life, it's easier to put it off tomorrow rather than starting with a small change today. But making small changes every day is exactly what will change the foundation of your life forever.

Welcome to Living Beyond Burn OUT!
We know you're busy and change can feel hard... Don't worry, we've got you!

Here at The Beyond Human Method, we've trained hundreds of people to move beyond human limitations in order to access higher levels of consciousness, so that we can live a life free from that human condition. And for 30 days we'll be setting a foundation for just that!


What's included in the course?
Guidance to Change
1 Thing Each Day
Together we'll make one change each day that will alter how we live life. This will range from no longer wearing shoes in your house to starting a new meditation practice.
Your Expert Team
You'll be working with the Beyond Human Coaches and the founder, Tamara Rose for 30-days to make changes they've already implemented, tested and approved.
Backed by Science
We'll show you the research behind each change you'll be implementing. This way you'll know the why and how it will make a difference in your life.
LIVE support
Not only will you be plugged into a community of people making changes just like you, but Tamara has graciously opened up her calendar to provide WEEKLY LIVE FACILITATION to all the participants of the program during the course.
Investing in YOU
People pay anywhere from $1k - $4k+ per month to work with Coach Tamara Rose as their Manifestation Expert. This uniquely curated course is no different than any other offering she's created. You'll gain access to life altering coursework, cultivate a community and access REAL RESULTS for a fraction of the cost others have paid.
Satisfaction guaranteed
If after you complete the 30-day program, implement the course work, attend calls, connect with the community and you still see no increase in your peace of mind, ease of life and living in a more calm state, simply email The Beyond Human Method team for a full refund.
You also receive:
Daily Integrations Delivered to YOU!
You're a busy #BossLady with a lot on your plate. We know it and we got you! Every morning you'll receive one integration for each day. You'll link up with everything you need to anchor and activate your calm and peace of mind.
We love our email reminders and we hope you like them too!
Lifetime access to your

Transformative Training Center!
Convenience is key when you're running the world. All your integrations, support systems, and your #BossLady community are in one spot so you can connect, ask questions and access everything you need for your #NextLevelLife
Conveniently changing the way


things are done!
The LIVE Sessions!
The secret to big transformation is working with a coach that not only gets you and has been where you are, but also has the intuitive insight to guide your soul. The chance to be on LIVE with Tamara is nothing short of magical. Ask your questions, receive facilitation or simply absorb other's contributions. There's no right way to do this, but it's something you don't want to miss.
(Sessions are recorded for your convenience)
LIVE Every Tuesday 12:30pm - 2pm MT
The Boss Lady #Femolution
A global revolution is at our fingertips and this is where we start. Going it alone is exhausting and overwhelming... But doing it with a #BossLadyTribe may be exactly what we need to get this party started. Together, we'll unravel the mindset and patterns that keep us locked in limitation and anchor in a new foundation of peace, ease, and calm to live from.

When we find our tribe we find out how much we have in common and that we aren't alone in this change!
What's My Investment?
WOMEN are on the forefront of a global change
and because of Tamara's commitment and her belief that humanity is ready for this change... she's made this course completely accessible to the masses.
Not just for women, but for EVERYONE everywhere so that we can embark on #ournextevolution.
T
his is our first
step.

People pay thousands of dollars each month to work with Coach Tamara Rose as their Manifestation Expert, and this course has the same intention and magic as her other offerings. It's been uniquely curated with access to a life altering methodology so that you can cultivate REAL results and immerse yourself in a supportive community. As a bonus you'll even have the chance to work LIVE with the founder of the methodology, Tamara Rose each week of the course.

They say insanity is doing the same thing over and over again expecting new results...

So the real question is, what would you be willing to invest to to make the change?

Living Beyond Burn Out

Join us as we make 1 small change every day together over the course of 30 days. You'll start new routines and habits that will not only benefit your nervous system, calm your cortisol levels, and tend to your energy field, but give you a foundation to no longer live your life from the stress, struggle, and limitations you've been trained in.
Online Training Center with access to all your resources to use from your phone, laptop, or desktop computer.


Online community of participants and coaches anchoring in the balance and ease we so desperately seek.


LIVE Sessions with manifestation expert, single mom and millionaire, Tamara Rose. Get your questions answered and receive the guidance needed to take your life to the next level.

Studies show burnout is a state of complete mental, physical, and emotional exhaustion. If you are experiencing burnout, you may notice that it's difficult to engage in activities you normally find meaningful.
How do you know you're in a #BurnOutCycle?
You FEEL constantly overwhelmed juggling your kids, their schedules, your business, your clients, managing a house, grocery lists, meals for the family and time with your significant other.
You're REALLY good at producing results in business, but when it comes to your personal life, you struggle to make time for yourself and cultivate the work-life balance that people talk so much about nowadays.
You FEEL obligated to care for everyone and everything else around you.
You're pulled in so many directions YOU and your needs have taken a backseat.
You eat crap, SOMETIMES drink enough water, have stopped exercising regularly, and live by the motto you'll "rest when you die".
When you think about "Self-Care", it would just be one more thing to do, and how could you add anything to this already full plate?
You eat last. Go to sleep last. And, pee just before you pop!
You're exhausted, sleep very little, love your caffeine, run on empty, and make sure everyone else's cups are full.
You're embarrassed to find you have a short fuse, snapping at your little ones and your loved ones more times than you'd like to admit.
You don't know the last time you had enough peace and quiet to actually unravel the stress and tired you've been feeling for years. You think you'll get to it someday, but that day has yet to come.
Your "vacations" don't feel like vacations anymore. You're either working, planning, or fielding constant questions/needs from your tiny humans when you're on a trip. So you constantly come home needing a vacation from your vacation.
You're overwhelmed by a perpetual to do list. Maybe you've tried "time management" programs and efficiency trainings, but you're still wake in the middle of the night thinking about the things you need to add to your list.
You have a hard time falling asleep at night or wake in the middle of the night.
You often wake up feeling tired, no matter how many hours of sleep you got.
Eventually you crash, #BurnOut, rest a little, and then you start it all over again.
People using the methodology...
For ten years I've worked on my personal growth and development, stripping away my head trash, trying to attain my goals and become the person I needed so that I could reach bigger and bigger things... The life I desired! But, it wasn't until I worked on my nervous system with, Tamara, that my quality of life drastically improved and I was able to finally get off the energetic roller coaster. By using this method I left behind the overwhelm, and created the consistent energy I needed to reach my next, level. And, I did it all with lightness and a passion I haven't felt in a long time!
Gwyneth Spinden
I always geek out when it comes to the human body and this course came to me in perfect timing as I was feeling overwhelmed by the world and the stresses that come with it. Tending to my nervous system has allowed me to control what I can control and create so much more awareness of my emotions and those around me. The daily routines are so easy to implement into your life and have truly become a game changer for me. I now have the complete capacity to support my clients in all ways without crashing at the end of the week.
Erin Jansen
This course has been life changing. Focusing on MY system and MY needs has helped me tend to my mental and physical health in a new holistic way. The morning and nightly routine has been big in clearing my anxiety and brain fog. As a recovering workaholic, I feel way more present, calm, confident, and love-centered in my relationships… and like I actually have TIME for my relationships.
Ronnie Orras
Your Guide: Tamara Rose
With over 13 years of expertise as an intuitive facilitator, manifestation coach and spiritual guide, Tamara remains on an endless quest to move beyond the human realms of limitation.


She's studied Ontology, Quantum Physics, Quantum Mechanics, the scientific principles of hands-on-healing techniques, the intricate applications of meditation's effects on the brain, the scientific and spiritual principles of the laws of attraction, the chromosomal differences between male and female dynamics, and has mastered the differentials of finances, money, and abundance. To be honest, if there was a PHD program for this type of study she'd have a few and be leading the way.

We all know it's one thing to LEARN something and another to LIVE THE PRINCIPLES, but this is where Ms. Rose shines. Let Tamara guide you in the methodology that has had this single mom, juggling a full life and a successful business, cultivate a foundation peace and calm to sustain all of her successes.

She'll share the secrets to attaining the work life balance so many of us have been seeking.

After 10,000 hours of practice, and 20,000 hours as a facilitator, coach, and guide to others, Tamara is ready to share this foundational path of living with you!

Living Beyond Burn-Out is a 30-day integrative journey that will harmoniously activate the necessary change that's needed for the over-worked, over-taxed, hustling, boss-lady to re-regulate her system and thrive!

Honor your innate ability to be at peace and cultivate the calm you so desperately desire...
It's time for A #Femolution

FAQ's
Is this course ONLY for busy, hustling, overworked #BossLadies?
No, not at all. This course is for anyone seeking the work-life balance you want but have yet to experience. However in our experience, we know that if a busy, #BossLady can live the work-life balance integration, then we know ANYONE can do it. So even if your plate isn't that full, you're gonna lay a foundation and experience a new found freedom with life… Trust me!
How do you know this works?
We curated this course based on extensive scientific research and implemented it with our own team of high producers. The results we've seen people have include more expansive experiences with their kids, constantly coming from a place of peace and calm, more fulfilling partnerships, more expansive money flows, and life experiences.
What if I don't have the time?
You probably don't have the time... That's the point! But this isn't like every other program out there where you have to schedule new course work, learn new things, and then remember to do the home work. This is an integration of principles, habits, and new patterns that are guaranteed to create more peace, ease, and calm. I wonder how much time you'll create for your self once this new foundation is set?
What's included in the 30-days?
The course includes an online training course, daily reminders every morning to keep you on track, 4 LIVE Community Support Sessions led by Law of Attraction Expert, Tamara Rose, and an online community of women and coaches that will have your back every step of the way.
Because, we were the first generation to have options at our finger tips... We wanted it all, but then to get it all, we were taught that we have to do it all.
What if tending to ourselves is what our kids and family need the most? Not just for us to be more balanced, presence, and to live a better life, but to have them see what's important is tending to ourselves, nurturing ourselves and honoring ourselves. So that when they're older they don't do it like we've done. That together we've #BrokenTheCycle!
Are you sure you don't want more PEACE EASE and Calm
$2,300 value for only $249

30-days of small changes to make the BIG Change in life!

The expert guidance and community you need to make it all stick!
Created with